First of all you will need to download the Light Edition of FairUse Wizard by clicking on the image above. There is also a Full version available that will do more. But for this tutorial you will only need the free version. You will also need to have DIVX installed.
First lets load up a DVD and close out any player that opens up. Now open up FU ( FairUse Wizard ). You will need to enter the title of your DVD and click on the browse button to where you want to save your video to.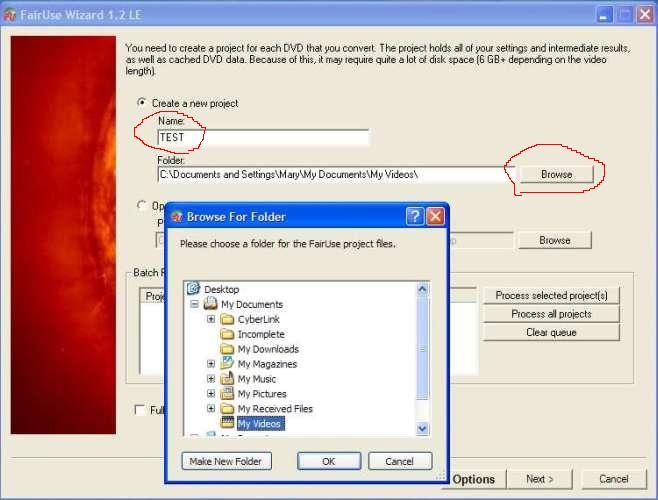 After clicking next a box will pop up. Choose what drive is to be used to Rip your DVD from then click OK.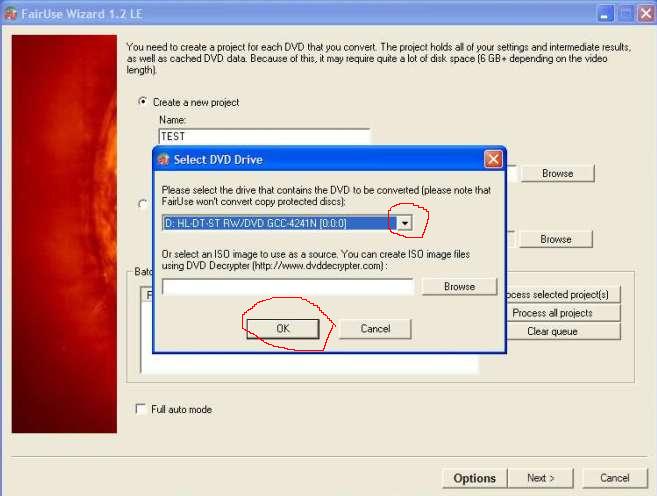 After clicking OK FairUse will scan the different Chains on the DVD and should auto select the movie for you...Note the length of the movie that is highlighted.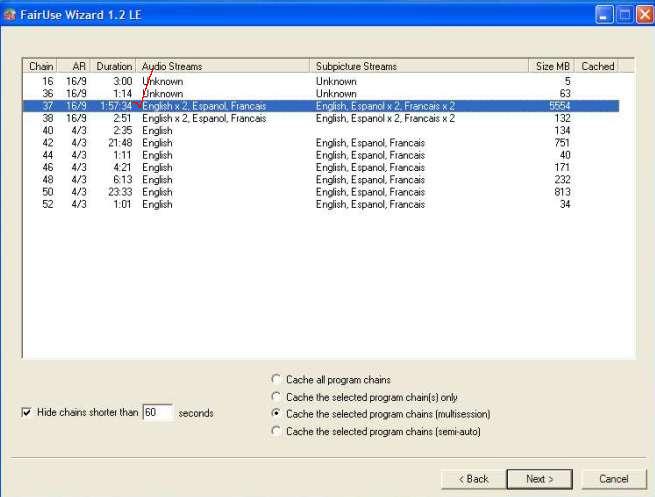 FairUse will now Rip your DVD to your Hard drive. Note this will take up allot of space, sometimes up to 10 Gigs or more. But once your done with the encoding part later you will be able to delete these files and just keep the 250 MB video file.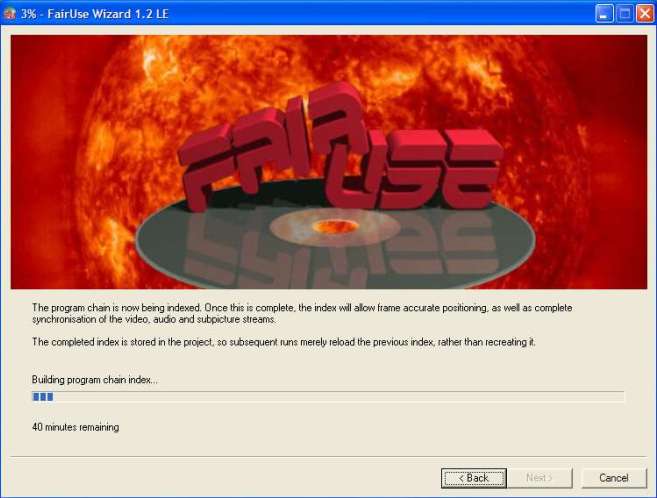 Now your DVD is on your computer and you can crop the image if you choose to as seen in the pictures below. Note you can just click next if you do not wish to do any cropping.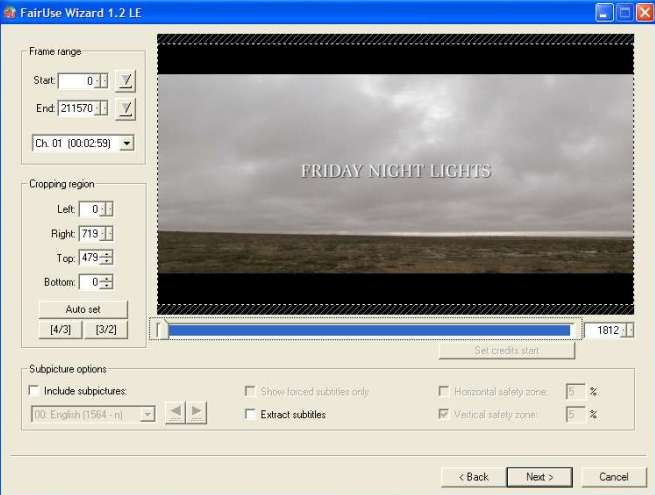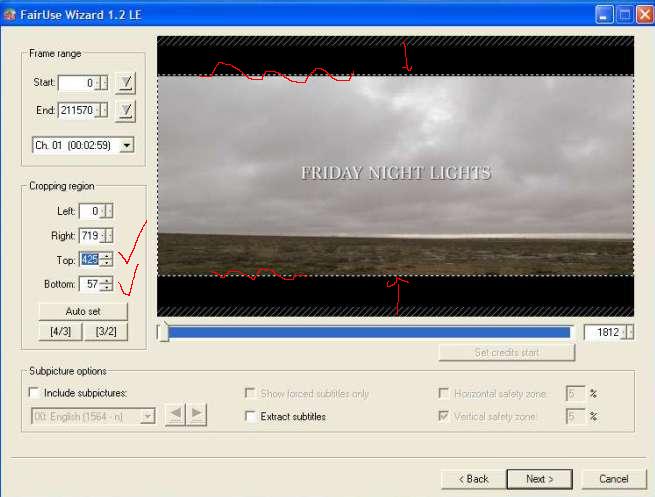 In this next step I suggest clicking the auto detect and let FairUse choose what mode to use.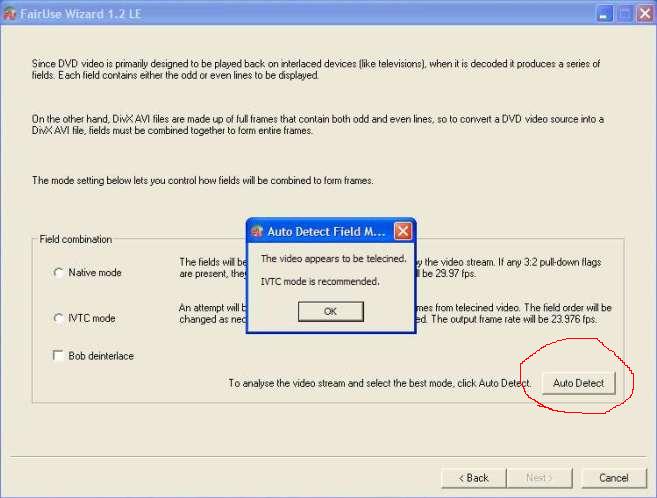 Now this next step is very important...Note that the video bitrate changes with the file size you choose. I recommend staying in the 220- 350 kbps using Divx 1 pass. This will give you a decent quality video and also keep the file size down . Also note the screen resolution in the bottom left hand corner. Most Pocket PC screens are 320x240 but video size will change if its a wide screen formatted movie as in this test I used. Now if your Pocket PC has a fast cpu and can handle a higher bitrate and you have a large memory card you can change the file size to what ever you like but for my tutorial I will stick to a 240 MB size which gives me a bitrate of 246 with a screen resolution of 320x136. I also just use the default audio settings at the lowest to save on file size which sounds great. Its not like a Pocket PC has surround sound anyway...lol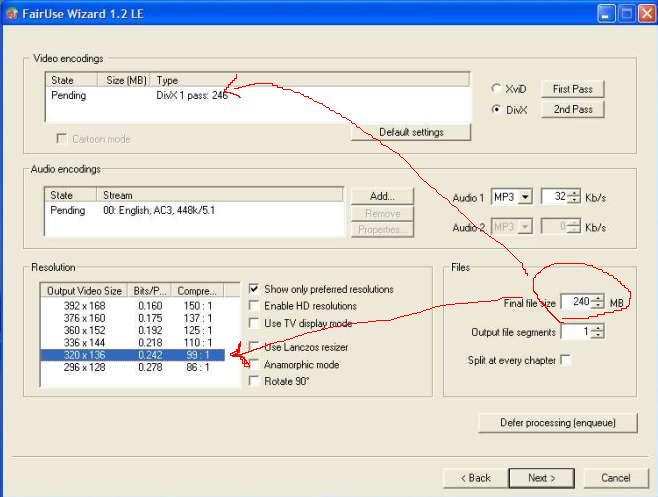 FairUse will now start to convert your DVD to the settings you chose. After it goes through the video part of the encoding another window will open to transcode the audio of your DVD. There is also a button you can check to shut down your PC when it gets done encoding your DVD.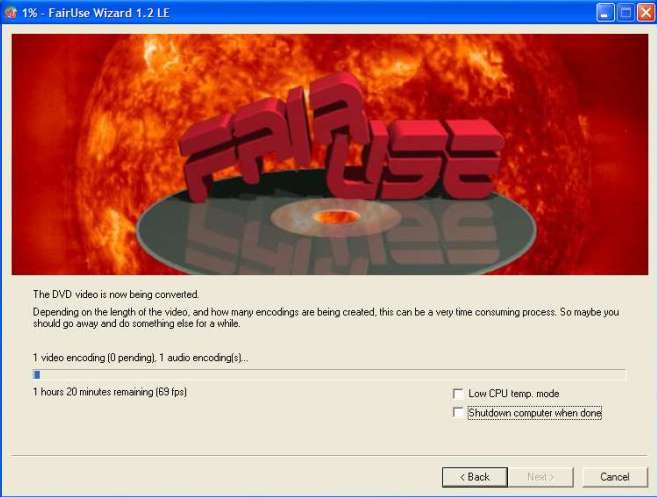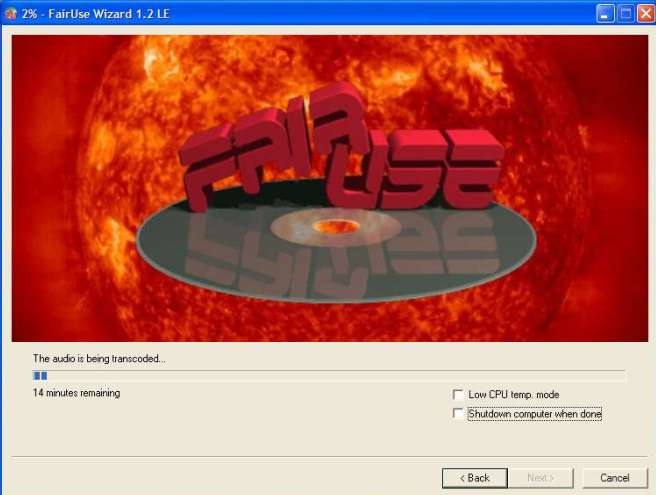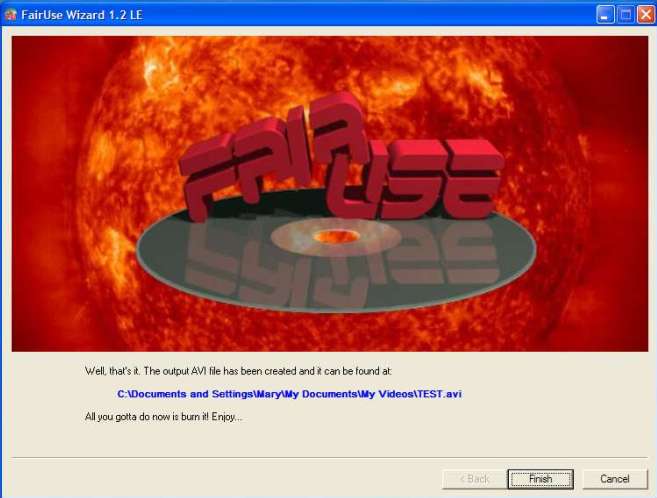 After FairUse has finished encoding you may now go to the folder you saved your video to and delete all the files that FairUse used in the process except for the video itself of course. I suggest using a card reader to transfer your video to your Pocket PC.
This movie ( Friday Night Lights ) took me around 3 hrs. to encode from start to finish on my Dell Laptop which has a 2.66 GHz Pentium 4 and 512 MB of Ram. Below is a couple of still screen shots I done of the movie. I use a Dell Axim x30 High to play back my movie and IMO FairUse does a real good job with quality at such a low file size that I used.